Managed Dedicated Hosting
Dedicated Servers - Secure, Reliable, Fast Dedicated Server Hosting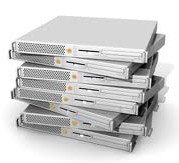 We provide a wide variety of hosting services, some of which are detailed below:
Dedicated servers, like their name, are dedicated solely to a single clients. This gives added security and flexibility; you are not sharing contended resources with anyone else. The entire dedicated server is thus leased to a single client without any shared hosting. This offers great flexibility to our clients. They can choose the operating system and the hardware. Full administrative control is provided to the client through our dedicated servers.
Dedicated servers can offer a variety of operating systems and server options.

These can include Linux based Apache servers and Windows server based IIS servers. We offer a variety of Linux distributions to suit client needs.
Dedicated servers often prove to be a highly popular hosting solution. They can also be part of a managed hosting solution. Managed hosting is a full-system solution dedicated to a single client offering greater flexibility and service levels. Many businesses prefer to managed hosting to support business critical applications. Businesses such as high volume e-commerce providers and financial services providers prefer to use managed hosting.
Is your website mission critical? That is to say, is it vitally important to the core running of your business, a key function in your day-to-day success? Then you will need a fast, reliable dedicated server.
At Milestone, dedicated server hosting gives your website the full attention and focus it demands. Security is a key factor in everything we offer, and here you'll find the most secure systems possible. You'll have the power and flexibility you need to install custom applications, and our superior reliability offers you peace of mind that you're in safe hands.
All our dedicated servers are hosted within our 2 private data centres, so in the unlikely event of any hardware problems, our experienced technical experts are only a few steps away which means that your dedicated server is in the safest place possible.
You'll be allocated a dedicated account manager who'll work closely with you to establish exactly what you need, answer any queries and, most importantly, deliver the right results.
With our dedicated server management, we will pro-activly manage your dedicated server, helping you to get the very best possible performance from the hardware. We also will perform security forensics, patching, disk space and load management allowing you to focus on what's important to you - your business.
Brand New HP Servers
Dedicated Account Manager & Instant Access to our Engineers
99.99% Uptime Guarantee
Bespoke Solutions to suit your needs
FREE Loyalty Bonus Upgrade
FREE Annual Security Review
Up to 100Mbps virtual data pipe – just like having your own leased line with enormous speeds.
Uncapped download & upload levels - no limits on the data that can be exchanged.
CCTV covers all areas of the data centres and corporate offices.
Our secure data centre environment gives your dedicated server access to a high-speed internet connection through multiple providers, 24/7 security, plus a fully redundant power system.
We're so confident in the resilience of our dedicated servers that we offer a 99.99% internet connectivity uptime guarantee.